Duxes held the 7th China International Nutraceutical and Functional Food Summit 2017 in Beijing on November 15-17. The event gathered functional food professionals, including policymakers, researchers, analysts, and representatives of major food companies, with expertise in nutrition, product development, marketing, and regulatory compliance, to discuss the booming Chinese functional food market.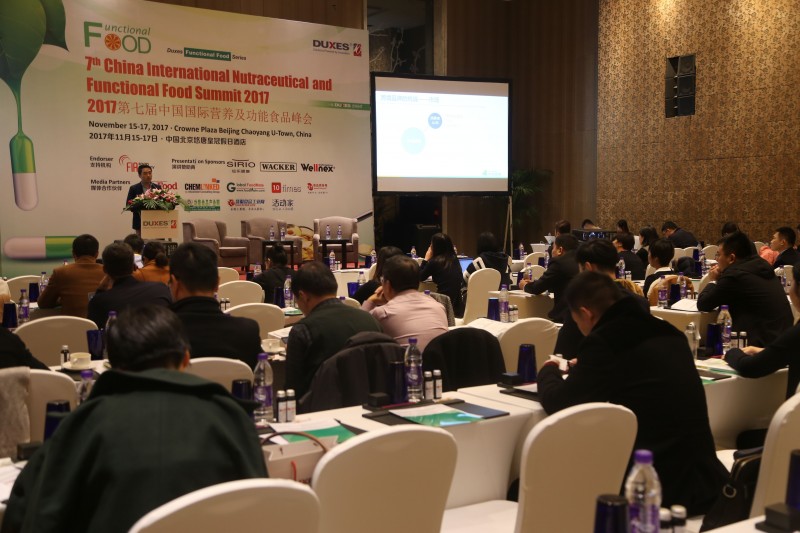 Over the course of the three-day event, speakers and panelists delved into growth sectors for functional foods, such as senior nutrition and sports nutrition. Health food researchers noted the intricacies of providing tailored products to address each demographic, with the proper ingredients and characteristics. Important content addressed the ground-breaking effect of online sales on the functional food market in China. Notably, the executive in charge of health food at ecommerce giant Alibaba, lent his experience to analyzing the future of cross-border ecommerce for functional foods.
The summit also covered the regulatory environment in China for functional foods, with input from policymakers, including the Director of CCCMHPIE, who explained relevant import and export requirements. Other presentations focused on product innovation and development, detailing applications for herbs, collagen peptides, low-glycemic foods, and the prospects of precision nutrition.
The 7th China International Nutraceutical and Functional Food Summit 2017 was held at a crucial time for the Chinese functional food industry, when increasing consumer incomes and health consciousness have created a flourishing market. Furthermore, the prevalence of cross-border ecommerce has enabled a diverse range of international functional food brands to enter the market. Due to industry demand for the latest information on these developments and others, Duxes holds three annual functional food events, in: China, Europe, and Singapore, dedicated to updating attendees on innovation and market conditions.