6th China International Nutraceutical and Functional Food Summit 2016
November 15-17, 2016·Crowne Plaza Beijing Chaoyang U-Town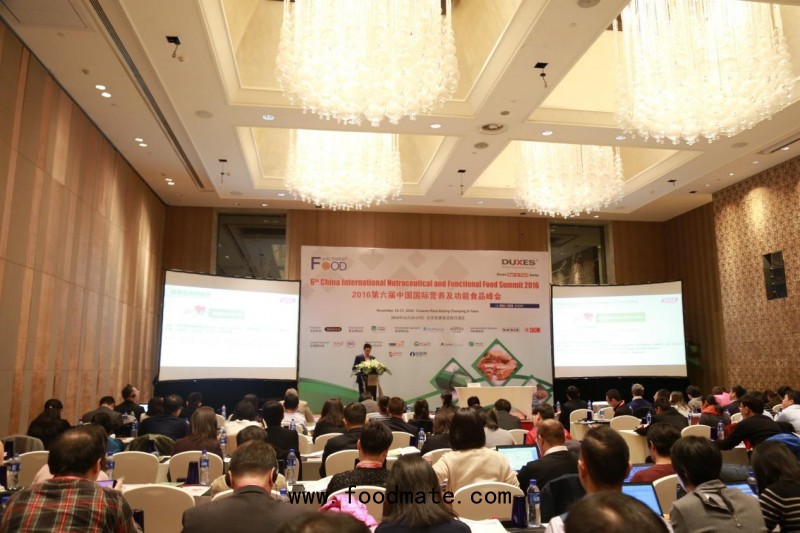 Greater health-consciousness among the general public have made functional foods and nutraceuticals one of the most promising consumer markets in the world, expected to grow at a compounded annual rate exceeding 7% from 2016-2020. China's growing elderly and middle-aged population, accounting for half of its health food market, have made it an especially important growth market for the functional food and nutraceutical sector. On November 15-17, Duxes hosted the 6th China International Nutraceutical and Functional Food Summit in Beijing, with the intent of shepherding the industry toward a brighter future, driven by those positive indicators.
For three days, industry representatives and experts, from government, professional associations, and leading companies in the health food sector, discussed and presented on a wide range of topics, pertinent to the functional food and nutraceutical industries. Among the most relevant and insightful presentations were regarding, product innovation in new ingredients and additives, trending product categories, including sports nutrition, health foods for seniors, food supplements, and functional water, and emerging market entry channels, such as bonded areas, and e-commerce cross-border platforms. Notably, longtime industry observers provided insight into newly promulgated laws and related catalogues that supervise the health food industry, which have important implications for companies operating in China.
Duxes is proud to have provided this important and essential platform for advancing the dialogue on important issues within the health food industry in China. We would further like to thank all of the attendees, speakers, and panelists, and invite all to stay engaged about future events in the field.
For further information, contact:
Ms. Vivi Ye
Tel: +86 21 5258 8005 Ext. 8106
Email: vivi.ye@duxes.cn
Website: www.duxes-events.com/ffcn6