The 9th China International Nutraceutical and Functional Food Summit 2019 (FFCN), hosted by Duxes, took place at the Crowne Plaza Chaoyang U-Town in Beijing from September 18-20. FFCN 2019 attracted hundreds of industry leaders from around the country to exchange ideas on trends, opportunities and the development of nutraceutical and functional ingredients in one of the world's largest consumer markets.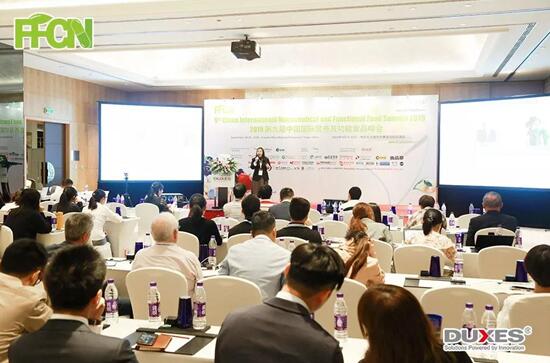 FFCN 2019 included speakers from the highest-profile companies and organizations in China, including policymakers and representatives from Alibaba, Fonterra, Amway, Tiens, Pepsico, By-Health, Sirio, DSM, Vitagou, Dentons, IPSOS, Zhenmeat, China Agricultural University, Chinese Sports Nutrition and Food Society (CSNFS), COFCO Nutrition and Health Research Institute and China Health Care Association.
During the three-day event, specialists from the fields of biotechnology, dietary supplements, e-commerce and import law met to talk on the impact of new developments in technology as well as the latest market research and cases studies. Speakers gave presentations on the new opportunities and challenges for the dietary fiber industry in China and the future prospects of national sports dietitian training, among a variety of other topics.
Attendees were invited to analyze and interpret the impact of China's increasingly aging society, especially in relation to elderly care, targeted supplements and the turn to plant-based diets. In addition to the many speeches delivered by the distinguished guests, the event also featured a fascinating panel discussion on the topic of the future of technological innovations for functional products and a presentation on the rise of sports nutrition brands.
This gathering was an important showcase of the harmonization between food scientists, national regulators and consumer brand experts.
On the first day, Shuna Zhao, Chief Research Scientist at COFCO Nutrition and Health Research Institute, gave a talk on the nutrition needs of the aging population. In her presentation, she noted that: "China's aging trend is also following the trend of the whole world. It is estimated that by 2030 China will surpass Japan to be the country with the highest aging population in the world. By 2050, over 30% will be senior citizens. This is a huge pressure. We have to face up to the challenge."
"Elderly care is mentioned 18 times in the latest government report, in a wide range of cases including government, tax and the economy. It is a hot issue at the moment. This industry for seniors faces opportunities and challenges which co-exist. In the past year we have been considering what tools we can use to help its development," she added.
Siow Ying Tan, R&D Senior Manager at PepsiCo Technology Ventures, later spoke on plant-based nutrition for healthy aging. She explained that "For healthy foods, PepsiCo has developed its own 3-point nutrition criteria plan. Out of the 3,000 or so products we have, we've set out individual guidelines on each of our product categories including food and beverages."
"We look at nutrients to limit, for example: sugar, salt and saturated fat in potato chips. The food groups to encourage are fruits and vegetables as well as whole-grains, low-fat dairy, nuts, seeds and legumes. The last criteria is nutrients to encourage, so certain nutrients are going to be highlighted like calcium, zinc or potassium, depending on different countries susceptibility to deficiency," she told the audience.
On the third day, there was a panel discussion on the future of technological innovations for functional products. Speaking about niche areas such as MCT oil, Casey Lin, e-commerce marketing manager at By-Health, said: "I think people need to enjoy their life and find their motivation to buy something. This is especially the case for food substitutes. When people are on a keto diet, we want to make the foods more delicious, so we can make the whole process of losing weight less painful."
"For the consumer, dieting requires persistence and strong will, so that is why some products only occupy a small market share, even though there is the demand there. In the future we could help by putting ingredients in chocolate and better-tasting foods such as cookies. We need to help the public realize their targets," she continued.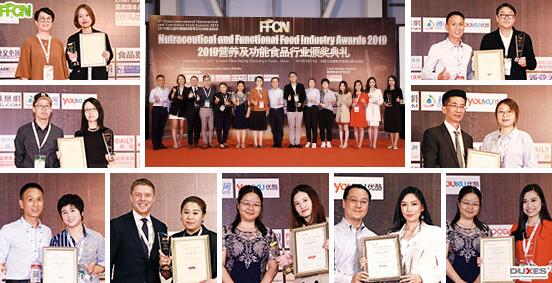 In addition to the extensive program of talks, networking events and discussions, this year's Summit also featured the 2019 Nutrition and Functional Food Industry Awards, which was capably hosted on Thursday by Feiting Huang of Fonterra NZMP. The awards announced at the ceremony were:
Nutritional Meal Replacement Product of the Year
By-Health – LeanBar range of bottled drinks

Intestinal Health Product of the Year
Sirio – Probiotics Gummy BC30 supplement

Beauty Supplement of the Year
Esthe Pro Labo – skincare product series, which includes SEVEN FACTOR Gelee PRO, CHARCOAL CLEANSE, and TOU CLEANSE

Innovative Functional Food Product Form of the Year
Wewow – Blueberry & Lutein Esters Gummy chewable supplement

Skin & Facial Care Trend of the Year
H&H Swisse – Golden Collagen Blood Orange Liquid

Sports Nutrition Product of the Year
Coca-Cola – Powerade range of functional sports drinks

Children's Nutrition Gummy Product of the Year
Wewow – Calcium Gummy

Popular Product Flavor of the Year
INJOY Health – INJOY Probiotic Drink Series

Skin Care & Facial Beauty Taste of the Year
BY-HEALTH – Collagen Gummies

Weight Management Product of the Year
Smeal (Shanghai) Biotechnology Co., Ltd. – Smeal milkshake

Brand Impact of the Year
H&H Swisse – Artichoke+Raisin Tree Seed Botanical Liquid
Following the ceremony, many of the awardees met with journalists who covered the event and featured the winning products and brands in several high-profile articles. The evening was widely publicized in Chinese media, raising awareness for all of those companies that took part and boosting the profile of the nutraceutical and functional food industry as a whole.
Duxes is grateful to all of our distinguished speakers for having taken time out of their busy schedules to attend FFCN 2019 and to share such noteworthy opinions on these matters of industry importance. Duxes also wishes to show their appreciation for the sponsorship of DSM, Sirio Pharma and Fonterra NZMP. Lastly, thanks to the numerous organizations who have made FFCN possible with their strong support!
If you missed this summit, don't worry, you can still catch up from anywhere in the world by downloading the XEvents app on your mobile device. Create an account and login to view the complete presentation materials from the event and get full access to all our online webinars!
Stay up-to-date on the latest industry trends and the most authoritative policy interpretations by subscribing to the official Duxes WeChat account here:

Or following the XEvents industry community:

Duxes is also pleased to add that there are several related forums taking place soon as part of the Duxes Functional Food Series. These include:
FFEU
3rd Global Human Nutrition and Wellness Forum 2019
- Health Food and Supplement Special
November 18-19, Frankfurt
DairyAP
6th Dairy Asia Pacific Summit 2019
November 21-22, Singapore

BCAP
Beauty Care Asia Pacific Summit 2019
December 5-6, Singapore
For more information and to book your tickets today, please visit: http://www.duxes.cn/DuxesEventCalendar/index.html