The development of daily chemical products generates the packaging demands. To cope with the market trend, daily chemical products packaging will become the focus of "The 24th China International Exhibition on Packaging Machinery & Materials" (Sino-Pack 2017) and "The China (Guangzhou) International Exhibition on Packaging Products" (PACKINNO 2017), which will be held in March 2017.

Daily chemical products refer to shampoo, body wash, skin-care product, conmestic, etc., in which conmestic,has the greatest business potential.
Transparency Market Research (TMR) from United States estimated that the compound annual growth rate (CAGR) of the global cosmetic packaging market will reach a 4.4% over the period between 2016 and 2024. The market value will rise from US$23 billion in 2015 to US$33 billion by 2024. In terms of geography, the cosmetic packaging in Asia Pacific market is expected to account for 32.5% out of the global market in 2016.
25% Growth in China Daily Chemical Industry
The development of China economy and its large population base determine the advantages for the daily chemical industry. With the 25% annual growth rate, China has become a significant country in manufacturing and consuming daily chemical products. Therefore, enterprises actively engage in product development, packaging design and promotion in order to attract more end users.
According to the increasing market demands, the organizer "Adsale Exhibition Services Ltd." will hold 2 packaging shows namely "Sino-Pack 2017" and "PACKINNO 2017" at Area B, China Import and Export Fair Complex, Guangzhou, PR China from 1-3 March 2017. The shows aim to provide a one-stop trade platform to buyers by showcasing innovative packaging machinery and products. Meanwhile, exhibitors will also display the latest equipment and materials in the industry to facilitate business deals.

Pre-Register to Win Hotel Accommodation
To encourage visitors to pre-register for the shows, a Monthly Lucky Draw has been launched. Visitors who completed the online pre-registration process will be entitled to participate in a Monthly Lucky Draw which will be held for 3 consecutive months (November & December 2016, January 2017). ONE lucky winner will be drawn per month and be awarded ONE twin room for 2-night hotel accommodation in Guangzhou during the Show period, March 1 – 3, 2017. Visitors are recommended to pre-register now at www.chinasinopack.com or www.packinno.com to enjoy additional privileges.
Exhibitors Highligths:
The RMD Series produced by GSK CNC Equipment Co., Ltd. specialize in its speed and strong carrying capacity. It can be applied in different shapes and sizes of packaging goods. The machine is widely used in production line transportation, disassembly and placement of the drinking, dairy industry, food, petrifaction, medicine, rice and feeding, etc.

Qingdao yilong packaging machinery co., LTD will exhibit the Bag Packaging Machine, which can pack different styles of bag, ranging from flat bag, stand-up bag to side spout bag, and so on. It can match with different dosing system packing including solid, liquid, granule, powder, etc.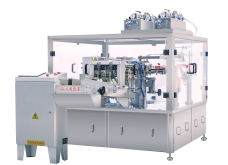 For more information, please visit: www.ChinaSinoPack.com / www.PACKINNO.com
Connect us at:
Facebook: @SinoPack l @PACKINNO
Twitter: @SinoPack1 l @PACKINNO1
LinkedIn: @SinoPack l @PACKINNO
This press release is issued by Adsale Exhibition Services Ltd. Please send us a specimen copy if you publish this text. Thank you!
Overseas Media and Visiting Enquiry:
Ms. Minna Mui / Ms. Wing Wu (Adsale)
Tel: (00852) 2516 3343 / 3358
Fax: (00852) 2516 5024
E-mail: printpack.hkpr@adsale.com.hk
Address: 6th Floor, 321 Java Road, North Point, Hong Kong
Exhibitor Enquiry (Adsale)
China - Tel: (021) 5187 9766
Overseas - Tel: (852) 2516 3371
About the Organizer:
Adsale Exhibition Services Ltd. possesses over 35 years of staging international exhibitions in China and has become one of the leading exhibition organizers in this field. Adsale is the organizer of CHINAPLAS which is Asia's No. 1 plastics and rubber trade fair. Adsale's Sino-Pack, Printing South China and Sino-Label exhibitions also have over 20 years' track record.