Latest news:
China International (Guangzhou) Fishery & Seafood Expo 2016
global publicity arrived at the 22 Station - Jingzhou which is the first city of China freshwater fish. Organizing committee visited Jingzhou Municipal Bureau of aquatic products and the national Chinese freshwater fish Trading Center Industrial Park.It is worthy of the first sweet water fish.Take a look at the layout of the industrial park, 250 million yuan forged industry benchmark! Total area is 1200000 square meters.People are shocked!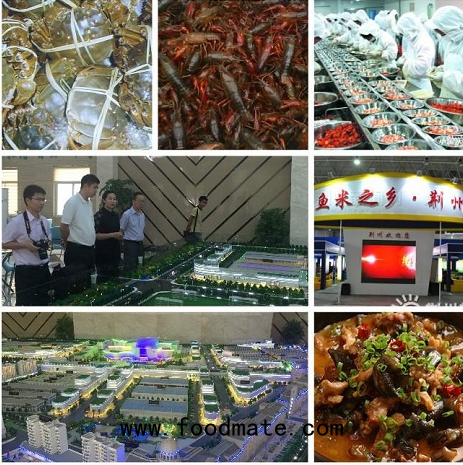 Hardware facility construction is so good, so let's take you to understand the Jingzhou fishery!
Jingzhou is located in mid-southern of Hubei province,in Jianghan Plain and Dongting Lake plain center. It is the first Chinese sweet water fishery city, and it has the reputation of "home of fish and rice". The 'historical records' had recorded that Jingchu ancients lived in "rice and fish soup" way of life.The city's land area is 1.41 million square kilometers, under the jurisdiction of Jingzhou area, Shashi District, Jiangling town, Songzi city, Gongan town, Shishou city, Jianli town, and Honghu city, many rivers, lakes and ponds.There is 483 kilometers of the Changjiang River across the whole territory and 355 lakes and 142 million acres of fish ponds.The total water area is 531 million acres, accounting for a quarter in the map. Jingzhou is one of the important aquatic animal and plant resource in China. There are 385 kinds of aquatic organisms, including 109 species of fish.
In 2015, Jingzhou annual aquaculture area is 2.45 million acres.Aquatic product output is 1.387 million tons.Fishery output value is 22.5 billion yuan. Processing output value is 15 billion yuan. Fishermen per capita income is more than 15900 yuan. It is reported that the city's fishery production is expected to increase by 1.8 billion yuan in 2016.
In 2015, Jingzhou city aquatic system always adheres to the the goal of quality seed supply and demand balance, seed market health and orderly development. It took effort to promote aquatic seed research, production and operation management, and gradually established a perfect modern seed industry development system.The city based on the characteristics and advantages of aquatic resources and adhered to the aquatic product brand construction as the point. The city newly increased a China well-known trademark,3 famous trademarks in Hubei,1organic food, 4 green food, 39 no pollution product certification, 65 origin identification.To speed up our city fishery development of new industry, stimulate the vitality of the development of fishery, under the guidance of aquatic product department, there were 938 city's development of fishery cooperatives, 6 fishery e-business enterprises.The variety of transactions included bulk sweet water fish, crayfish, food processing, etc., and the trading volume broke 200 million yuan.
In 2016, Jingzhou aquatic products breeding area will stabilize at 245 million acres.The output of aquatic products will increase 5 million tons.Fishery output value will increase more than 18 billion yuan.Aquatic products processing and conversion rate will reach up more than 65%.Fishermen per capita net income will increase more than 1000 yuan.
Come on, crayfish, freshwater fish, turtle are delicious.After eating too much seafood, you should try to change taste. Don't miss an opportunity to visitChina International (Guangzhou) Fishery & Seafood Expo on August 26 !
Guangzhou Boyi Global Exhibition Co., Ltd
Guangzhou, Guangdong, P.R. China
Mobile:+86 15018717199
Tel.: +86 20 66339113
Skype:fishexhibition
Email: info@chinafishex.com;